What are you hoping for this spring?
Spring is coming soon. With the flowers starting to bloom and new life budding around you, what are you hoping for this season? Let's talk about hope in todays #PointsToPonder.
Hello, I'm Jo Heather Dodson, Your Christian Coach, helping you discover what God has next for your life!
Sometimes when you hear the word hope, you may think it means wishing for something that you're not sure will happen. It's kind of like when your birthday is coming up, and you say to yourself: I hope my friend gets me that new toy I've been hinting about!
But hope to me means something much deeper than wishing optimistically. As a Christian, hope is the confident expectation of what is sure and certain, what God has promised in His word. It's kind of like springtime … I'm confident it's on the horizon because all the signs are pointing that way!
What about you? What are you hoping for in these coming days?
Hope helps me live my life with a sense of certainty and confidence … which is odd because we always say nothing in life is certain. But I do know my God is certain. How? Because He's proven to me over and over again that He never changes and that He's always with me. So I am choosing to have my full hope in Him.
But maybe you're feeling worn down or you're wondering what's life all about anyway. I encourage you to meditate on Isaiah 40:31. It says: "Those who HOPE in the Lord will renew their strength. They will soar on wings like eagles; they will run and not grow weary, they will walk and not be faint."
Ask God to teach you HOW to hope in Him. And ask you begin to Hope in Him, ask Him to renew your strength, to help you soar and run and walk … He promises this in His word, so I know you can learn to hope in Him and trust His promises.
Want to hear more about hope?
If you want to learn more about hope and how it inspires your Christian Living, check out my podcast called Love & Encouragement To Live By. You can download our HOPE episode as an  audio file and listen to it as you're out and about. Or you can watch our video by visiting LoveAndEncouragement.com.
Ready for coaching?
I hope you've been inspired to learn more about coaching and to share what you're learning with your family and friends. As a credentialed coach, I'm here to help in your journey to "what's next" in your work and life, so contact me today!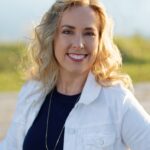 Jo Heather Dodson
is a coach for Christian leaders, entrepreneurs and professionals who are ready for "What's next?" in work and life.  She brings a wealth of experience to the coaching conversation. 
Schedule
your no-cost call to find out more today!