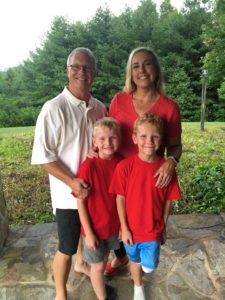 I am blessed to be married to Ricky,  and I am thankful to be raising two young sons in beautiful North Carolina.
In June 2013, we took a family trip to visit missionary friends in Kenya, Africa. I can say that trip changed my life. I came back from Africa knowing that there had to be more to life. I knew God was calling me make changes—personally and professionally—and in 2014, I discovered my passion for coaching.
As a client paired with a coach, I became fascinated with the process of partnering on an action plan that moved me forward in specific and tangible ways. I knew I wanted to be that kind of partner to others, someone to hold the "sacred space" of self discovery and personal development. It's been an amazing experience!
In 2015, I sought training through the Presence-Based Leadership Development® coaching program based in Asheville, N.C., and also later trained with the Professional Christian Coaching Institute.
After coaching part-time for two years, I eventually left my corporate role to become a coach full time, partnering with entrepreneurs and individuals through an inspiring,  prayer filled, thought-provoking, and creative process to pursue their best life personally and professionally.
I established Your Christian Coach, LLC, in 2017, the same year I became an Associate Certified Coach™ through the International Coaching Federation. Thanks to my 25 years of experience in corporate and non-profit work along with my coach training and support from my personal coaches, I bring the experience needed to help you identify gaps in where you are today while making action plans taking you to where you want to be tomorrow.
In addition to my coaching practice, I'm the cohost of a weekly podcast called "Love & Encouragement To Live By" with Christian Author T. S. Thompson. You can find out more at LoveAndEncouragement.com, or  follow us on your favorite podcast service.