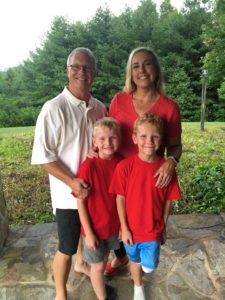 I am blessed to be married to Ricky, thankful to be raising two young sons in beautiful North Carolina.
In 2014, I felt God calling me to live a life of excellence, and it was then I discovered my passion for coaching.
As a client paired with a coach, I became fascinated with the process of partnering on an action plan that moved me forward in specific and tangible ways. I sought training through the Presence-Based Leadership Development® coaching program based in Asheville, N.C. and also later trained with the Professional Christian Coaching Institute.
After coaching part-time for two years, I eventually left my corporate role to become a coach full time, partnering with women through an inspiring,  prayer filled, thought-provoking, and creative process to pursue their best life personally and professionally.
I am an Associate Certified Coach™ through the International Coaching Federation,  Thanks to my 25 years of experience in corporate and non-profit work along with my coach training and support from my personal coaches, I bring the experience needed to help women identify gaps in where they are today while making action plans taking them where they want to be tomorrow.