How do you survive the holidays?
Are you dreading this holiday season because of loss in your life? Do you feel like no one understands how hard it is? There is help. Learn about where to find support in today's #PointsToPonder.
Hello, I'm Jo Heather Dodson, Your Christian Coach, helping you discover what God has next for your life! Learn more about my coaching services at YourChristianCoach.net
Have you gone through a loss this year? You may have lost a loved one, been laid off from your job, or lost your spouse through divorce or separation. You might be feeling stressed about how to make it through the holiday season. You are not alone. There is help available for you. Psalm 147:3 says: "God heals the brokenhearted and binds up their wounds." You can choose to lean more deeply on God, giving Him permission to start the healing process. He's also made a way for you have resources to help you in your journey toward healing.
Three steps for you
No. 1: Consider GriefShare …GriefShare is a worldwide program involving supportive people who walk with you through one of life's most difficult experiences: the loss of a loved one. And right now, they have a special seminar to help you cope with the holiday season. You can find a one near you by searching online.  
No. 2: Receive support through Living Free … Living Free is a non-profit Christian ministry that is designed to help individuals, families and communities deal with life-challenging problems. They host a number of small groups in person and online, including a group focused on coping with the loses of life. Find out more on their website.  
No. 3: Check out Focus on the Family … Focus on the Family is a global Christian ministry dedicated to helping families through all of life's challenges. They have a myriad of ways you can get help: You can get access to information online, and they can help you find a counselor near you. They have an excellent article called "When the holidays hurt." You can check it out by visiting  their  website.

 
2 Corinthians 1:3-4 tells us: "Blessed be the God and Father of our Lord Jesus Christ, the Father of mercies and God of all comfort, who comforts us in all our tribulation, that we may be able to comfort those who are in any trouble." May you be blessed knowing that God is ready to comfort you today.
If you'd like to hear a personal story about Joyce's journey through grief, check out my "Grief Support" podcast, No. 42, on LoveandEncouragement.com or on your favorite podcast app.
Thanks for joining me. And I'll see you next Tuesday, as we chat more about Points to Ponder.
Ready for coaching?
I hope you've been inspired to learn more about coaching and to share what you're learning with your family and friends. As a credentialed coach, I'm here to help in your journey to "what's next" in your work and life, so contact me today!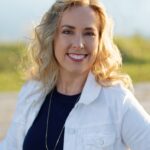 Jo Heather Dodson
is a coach for Christian leaders, entrepreneurs and professionals who are ready for "What's next?" in work and life.  She brings a wealth of experience to the coaching conversation.  Schedule your no-cost call to find out more today!